**It's
TMI Thursday
! Join us all in humiliating the crap out of yourself every Thursday by sharing a completely tasteless, wholly unclassy, "how many readers can I estrange THIS week??" TMI story about your life. Or hell, about someone else's!**
As always, you can blame
LiLu
for this ;-)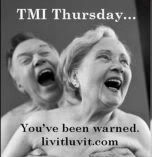 ~~~~~~~~~~~~~~~~~~~~~~~~~~~~~~~~~~~~~~
this one is mainly gross in the sense that most people get SUPER SKEEVED when i start talking about my eyes, especially if it involves touching them. so, uh, prepare to be skeeved!
as contact wearers know, sometimes if your contact is a little dry, and you rub your eye the wrong way, your contact can be rubbed into the corner of your eye and get stuck there. in fact, sometimes it goes so far to one side / up behind your eyelid that you can't see it anymore. this is annoying, but not a cause for alarm: usually with a bit more rubbing (or just the patience to wait a few minutes) the contact roams back to the front of your eye, sometimes doing this weird slo-mo expulsion out of the corner of your eye where it comes out sort of folded in half like a burrito. it feels like the corner of your eye is giving birth.
uh, ANYWAY. the other day i was sitting at work almost ready to go home, and rubbed my contact into the side of my eye. i had really done a number on it: no matter how much additional rubbing / feeling around of the naked eyeball i did, i could not locate the stupid thing to get it back to the front of my eye. eventually i gave up and made my way to the bathroom to get serious about the situation.
eventually, due to no effort of my own, the contact burrito-birthed out of the corner of my eye and i caught it in my palm. sweet! now i just had to pop it back in and be on my merry way. except that after this whole ordeal, my contact was SUPER dry and was not cooperating. even though i know it never works, i put a few drops of water on my contact to try to moisten it... but nope. tap water is just not the same as saline solution.
i knew what i had to do. i'd done it before in contact emergencies. i once read that in the absence of saline solution, the closest substance to the natural moisture in your eyes is... your spit. it makes some sense, i suppose, and hell. i knew it worked.
so i spit into my contact, then popped it back into my eye.
except you know how bad everyone's allergies have been around here this year? yeah. without thinking about it, i'd basically hawked a loogie* into my contact, then shoved the whole mess in my eye.
horrified, i yanked the contact back out, but the damage had been done. i was basically left with a loogie IN MY EYEBALL.
you know how when you're a bit phlegmy, and you brush your teeth, sometimes when you spit you get that gross string of spit that dangles from your mouth so you have to re-spit, but a little more violently?
yeah. imagine that scenario IN YOUR EYEBALL. and remember, your eye has no lips, so it cannot spit out the phlegm. instead it just... drips. while you try desperately to wipe it all away.
the only saving grace to this entire scenario is that no one else came into the bathroom for the duration of the episode.
~~~~~~~~~~~~~~~~~~~~~~~~~~~~~~~~~~~~~~
*more etymology for my word nerds!
hock or hawk a loogie
?