**It's
TMI Thursday
! Join us all in humiliating the crap out of yourself every Thursday by sharing a completely tasteless, wholly unclassy, "how many readers can I estrange THIS week??" TMI story about your life. Or hell, about someone else's!**
As always, you can blame
LiLu
for this ;-)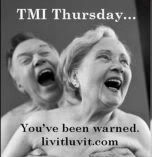 i don't seem to have a lot of super gross TMIs (not that i can top the helpful (-ly disgusting) words of wisdom from
TGIFriday dude
i shared last time).. so this one's more just about how i'm a moron.
i don't really enjoy chatting with people while i'm in the bathroom. peeing should be done alone, you know? and if other people have to be there, everyone should politely pretend to ignore everyone else. there is no need for full blown stall-to-stall conversations with coworkers. i have enough awkwardness in my life already, thank you.
however, the anti-chat rule does not apply to my friend.. um.. "gertrude." we're very good friends. and we talk about EVERYTHING. seriously. there is not a topic we have not covered at some point (and usually then beaten to death). all those things that are normally tmi between friends? nonexistent. so it's also normal for us to chat while peeing.
anyhoo! yesterday, we're headed to the bathroom together. i was wearing a cute little sundress (hello gorgeous weather! finally!) and was commenting how i had opted for boy shorts underneath, given the skirt's fullish nature and thus its potential for flying up in a stiff breeze.
me: the problem is that these boy shorts are SERIOUSLY riding up my ass.
gertrude: yeah, that's always a potential problem with boy shorts.

me: right? i.... holy shit.
gertrude: what?? are you ok?
me: yes. i just... um... my underwear is on inside out.
gertrude proceded to nearly fall off the toilet laughing (i would say "nearly pissed herself" except.. you know). mostly because about a year ago, we had THIS conversation, while side by side in the exact same stalls:
me: dude. holy shit.
gertrude: what?? are you ok?

me: yes. i just... um... i think i put my thong on sideways this morning.
as in, i had my waist through one of the leg holes. until that point, i was not aware you COULD get a thong on sideways. but if you're me, and you're not a morning person, you can.
to sum up: i am 28 years old and still cannot put on underwear properly.